As we suggested in another article, if you like the retro look in your kitchen, you can find matching items for a coordinated look. Here are our top picks for a retro kettle from some of the best brands
One of our top choices has to be the Swan retro kettle. We love the classic pyramid design in a gorgeous cream color. You can even buy a great set that includes the kettle and matching toaster.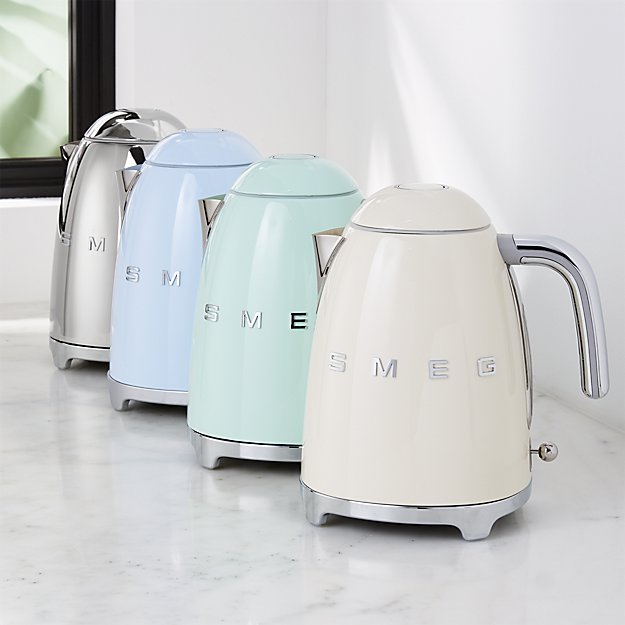 Best Retro Kettle Picks of 2018 – Buying Guide and Advice
When picking the best retro kettles, we've looked for the classic pyramid shape or the cute dome shape and colors we think have 'retro' written all over them including pastels, cream, and bright reds. Here's a list of our top picks.
Russell Hobbs Retro Kettle
Russell Hobbs is one of our favorite brands for retro-style kitchen appliances. Their red legacy kettle has such a classic look that's a perfect balance between retro and modern. The cream version is also great and it will boil your water super fast with 3000 W of power.
Retro style kettles from Amazon UK: https://www.amazon.co.uk/Swan-SK261030CN-Retro-Pyramid-Kettle/dp/B00K69WHBA https://www.amazon.co.uk/Swan-Kitchen-Appliance-CREAM-Toaster/dp/B06XHTVLR3 https://www.amazon.co.uk/Russell-Hobbs-Legacy-Kettle-21881/dp/B00PU1POXW https://www.amazon.co.uk/Russell-Manual-Microwave-Legacy-Toaster/dp/B01LHNJGWQ
If you want to go full-on retro with your kitchen, Russell Hobbs makes this super easy with their 3-piece cream set. You can't go wrong with these perfectly matching pieces for your kitchen.
The set consists of a cream kettle, a super family 4 slice toaster and a 700 W microwave for an affordable price of £120 on Amazon.
Retro Kettle and Toaster Sets
Our top tip for any retro/vintage kitchen decor is to buy sets by the same brand whenever possible. This is a great style choice and you'll be sure that your appliances match perfectly.
Retro kettle kitchen sets from Amazon UK: https://www.amazon.co.uk/Breville-Impressions-Toaster-Kettle-Bundle/dp/B01IP6HVF2 https://www.amazon.co.uk/Matching-Kitchen-Set-Two-items/dp/B01MTBSFZ1 https://www.amazon.co.uk/Swan-Polka-Kettle-Slice-Toast/dp/B01K1X783W
The Breville Impressions toaster and kettle duo is the most retro-looking thing you can own for your kitchen. We love the soda shop/ 1950's ice-cream shop look with its bright red design and ridged texture.
Picking the Perfect Retro Kettle
Our top tip when purchasing a retro kettle is to consider functionality before design. Then, match your kitchen's color scheme with the perfect kettle so you avoid introducing a discordant item in your kitchen.
Matching sets of toaster and kettles or 3 piece sets including a microwave is the best way to go. They will look so great together and are better value for your money, too!