France started to manufacture clocks in the 17th Century. With the help of skilled artisans, antique French clocks made a notable mark in the history of the clock-making business
Antique French clocks are well-known for their magnificent and detailed designs. There are several styles of French antique clocks. These are French longcase clocks, French skeleton clocks, French cartel clocks, antique French mantel clocks, and French bracket clocks.
Best Antique French Clocks Picks of 2018 – Buying Guide and Advice
When looking for an antique French clock you will need to keep in mind some basic points. These are: the movement of the dial, size of the dial, casing, decorative attributes of the timepiece, and practicalities.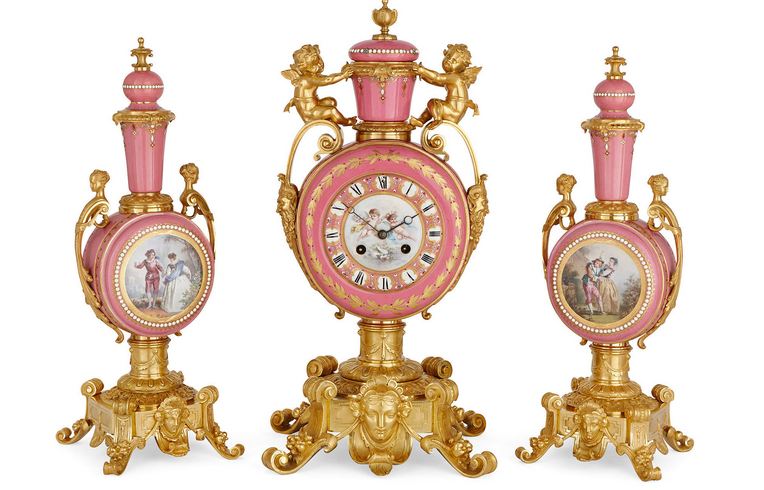 Antique French Clocks such as Antique French Marble Mantel Clocks
Mantel clocks are kept over the mantel above the fireplace. This kind of clock was first manufactured in France in the 1750s. Antique French mantel clocks are famous for their elaborately decorative artworks.
Here are the links of antique French mantel clocks: https://www.ebay.co.uk/itm/Antique-French-Ormolu-Bronze-Mantel-Clock-c-1850/371919310941?hash=item56981e505d:g:900AAOSwbP1aedS4, https://www.ebay.co.uk/itm/Antique-19th-c-French-Onyx-MARBLE-7-PC-Mantel-clock-Garniture-DESK-SET/391921670241?hash=item5b405a1861:g:Q00AAOSwUsJYV15K, https://www.ebay.co.uk/itm/Very-Unique-Antique-French-Marble-Mantel-Clock-With-Fine-Jeweled-Design/282756953259?hash=item41d5a0b4ab:g:eaMAAOSwPCVYBoEd, https://www.ebay.co.uk/itm/Antique-19th-c-French-A-D-Mougin-Gt-Bronze-White-Marble-Portico-Mantel-Clock-Set/391981794132?hash=item5b43ef8354:g:oT0AAOSwy4tahYPY, https://www.ebay.co.uk/itm/Stunning-antique-19th-c-French-Figural-White-MarbleNow-Mantel-Clock-garniture-Set/332555678527?hash=item4d6ddcf33f:g:n6UAAOSw4xVahYPZ, https://www.ebay.co.uk/itm/Antique-French-Imperial-Marble-and-Ormolu-Mantel-Clock-by-Miroy-Freres/273071069319?hash=item3f944dd887:g:aFsAAOSw-JJaaNnC.
The Antique French Ormolu Bronze Mantel Clock circa 1850, presents an ormolu figure sitting on a bronze slab with an inserted Roman numeral clock. The figure is wearing a Renaissance costume and a laurel crown. This is an excellent addition for your collection of antique clocks.
The Antique 19th Century French Onyx Mantel clock Garniture desk set features a pen holder, two inkwells, two candle holders and a clock face.
Antique French Cartel Clocks
This kind of clock is remarkably different from the clocks produced in France from the 1750s onward. Antique French cartel clocks are a version of wall clocks made of spiral brass cases with an enamel dial.
Here are the links of some antique French cartel clocks: https://www.ebay.co.uk/itm/Stunning-Antique-French-8-Day-Ormolu-Bronze-Striking-Cartel-Wall-Clock-Working/112823228001?hash=item1a44c9d661:g:~qMAAOSwNmVaid1G, http://www.ebay.co.uk/itm/JAPY-FRERES-ANTIQUE-FRENCH-GILT-CARTEL-WALL-CLOCK-C1870/170545692588?hash=item27b550bfac:g:LiIAAOxyhlJRdQXj, https://www.ebay.co.uk/itm/Superb-antique-19th-c-French-Japy-Freres-Solid-gilt-bronze-Cartel-Wall-Clock/391986074611?hash=item5b4430d3f3:g:nZ0AAOSw1zhacdkG.
This antique French Ormolu bronze cartel wall clock is an excellent piece of French artwork originating in 1860. The clock case is made of high-quality Ormolu bronze and is covered in intricate ornamental designs.
Antique French Clocks in the 20th Century
In the 20th Century, the French antique clocks were influenced by the ornamental style of Art Nouveau and the lovely visual art style called Art Deco.
The antique French clocks from the 20th Century feature bronze human and animal figurines from history and mythology. The clocks were manufactured with different materials, such as marble, glass, onyx and chrome. As you choose your clock, it can be worthwhile to bear in mind these different materials, so that the clock fits in with your pre-existing decor.