Vintage baby clothes are great because they look like little costumes. However they are also suitable for every day wear. In addition, vintage baby clothes can be a lot of fun to shop for.
Retro baby clothes often include adorable Peter Pan collars, puffy dresses, sailor-style onesies, and long dresses. The typical colour scheme is usually pastels which makes the babies look just like little angels. The bonus with this style of clothing is the cute factor. When a baby is wearing something like a sailor-style onesie, people just can't resist gushing over them.
Best Vintage Baby Clothes Picks of 2018 – Buying Guide and Advice
When looking for vintage baby clothes, you can get some adorable styles on Amazon and Ebay UK. You don't need to go to thrift stores. Or, buy second-hand as you often have to do with adult vintage clothes. Most people prefer to buy new clothes unless they know the person donating them.. Just to be extra safe with their baby.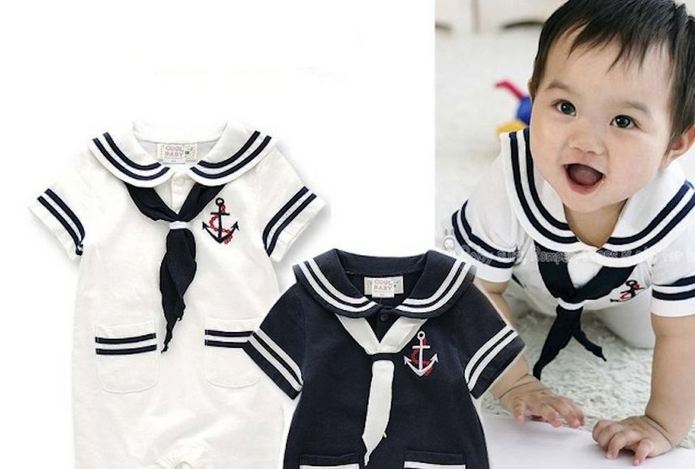 50's Inspired Vintage Baby Clothes
These 50s inspired baby clothes look like they're straight out of a 50s film with adorable dressed-up children. Your kids will look really stylish in these clothes. But, still very cute at the same time.
Here's some of the cutest finds for baby girls and boys: https://www.amazon.co.uk/Toddler-Sailor-Stripe-Romper-Marine/dp/B074Z3WNM2 https://www.amazon.co.uk/Smocked-Romper-Embroidered-Fastening-Between/dp/B0788NM311 https://www.amazon.co.uk/Cutelove-Newborn-Vintage-Ruffle-Jumpsuit/dp/B074KTZWMY/ https://www.amazon.co.uk/Baby-Formal-Christening-Wedding-Waistcoat/dp/B00EPELFNI/ https://www.ebay.co.uk/itm/BABYPREM-Baby-Dresses-Girls-Pink-Vintage-Flower-Dress-Frock-NEWBORN-Clothes/152756499146?hash=item2390ff32ca:m:mVFtbNjJBmMsgwXK86D1S5g
All of these choices make for utterly adorable outfits. But, we especially love the sailor strip romper for boys and even for girls. Just imagine how cute that would look on photos, especially in black and white!
There's also nothing cuter for baby girls than these puffy.. Peter Pan collar dresses with the floral detailing or the big buttons – so cute! Pair them with gorgeous little T-bar shoes. And, frilly socks and thank us later for the adorable photos.
Retro Baby Clothes
These retro baby clothes are more on the quirky, rather than cute, type of style. They're still adorable of course. If you are into retro clothes for yourself and love tees with slogans or band names on them. Then, you're going to love this collection for your child. Here's a list of adorable, 80's style retro clothes for your little one.
https://www.amazon.co.uk/Creeper-Romper-Infants-Toddlers-Months/dp/B00L6KNI8O https://www.amazon.co.uk/Atari-Classic-Distressed-Infant-Snapsuit/dp/B01MATITIN/ https://www.amazon.co.uk/Pink-Floyd-Infant-Creeper-Onesie/dp/B01FVT18S2/ https://www.amazon.co.uk/Before-ROMPER-SHIRT-unisex-Months/dp/B015BTR3M2/
These baby creepers are some of our favourite picks for comfortable but cute baby clothes. If you're a Pink Floyd fan, you need this retro Pink Floyd raglan shirt for your baby. And, maybe a matching adult one for yourself. For those who like quirky baby clothes, retro 80s designs will remind you of your own childhood, and make your baby look very cool.
Enjoy Dressing up Your Baby!
Remember, you're at the stage of parenthood where you still have a say in what your child wears! They will have their whole life to develop their own style. So, for now, enjoy dressing them the way you want to. Who knows, they may take inspiration from you.. And, grow up to be just as stylish and funky as their parents.
So, enjoy this liberty and go wild with your baby clothes picks. Dressing up your babies in clothes similar in style to what you wear yourself makes for adorable parent and child photos. And trust us, with such stylish baby clothes, your baby will know good fashion before it can even pronounce the words. If you love retro clothes and a little rock 'n' roll look.. There's nothing better than dressing up your baby in cute band shirts (maybe in the hopes that they will grow up to like that band!).