Due to the large range of vintage kitchen accessories, choosing things for your retro kitchen is not simple. And, research is important to get the best accessories for your vintage kitchen.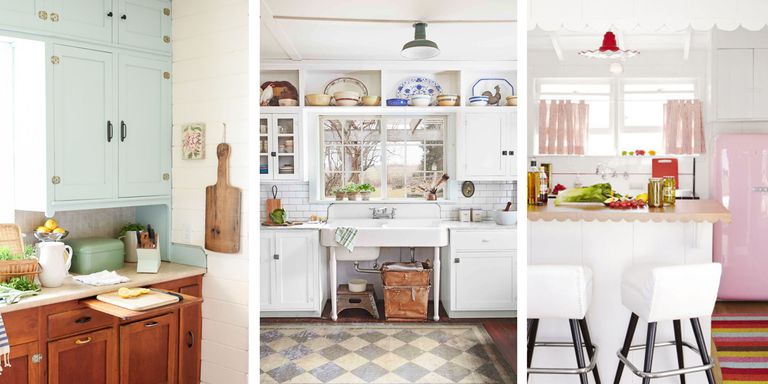 Retro or vintage kitchen accessories and kitchen ideas are available in many of the big stores. But, looking for vintage kitchen appliances on the high street takes far too much time and energy. Search our product categories to find the best online bargains to complete the look of your kitchen. Also, with cool matching appliances.
Retro Fridges And Freezers
The vintage fridge and freezers can be either white or coloured appliances in bright colours. They have a slightly different shape to the more modern fridge and freezer.
They have rounded corners on them which quite often softens the look of the appliance and makes it look less rigid. These are a popular addition to a retro kitchen. And, there are one of the main items that define the retro look. This category includes a range of designs to suit all tastes and colour schemes.
Retro Kitchen Appliances For Your Vintage Country Kitchen
Retro kitchen appliances for the vintage kitchen are the definitive accessory. These antique kitchen appliances almost always include retro kettles.
Many retro kettles are not like a traditional electric kettle which plugs into the wall. But, they require a stove in order for them to work. The kettle is placed directly over the flame. And, it gives a whistle when the water boils. For those who prefer the convenience of modern appliances, there are plenty of electric kettles available in retro styles.
Vintage Kitchen Ideas – Retro Style Microwaves
Retro style microwaves, like many other vintage kitchen accessories, are available in bright colours or in pastels. Such as cream, duck egg blue or green. In a similar style to retro style fridge freezers, retro microwaves have a slightly softer shape with rounded corners rather than the rigid sharp corners of the modern microwave. Many of the microwave doors have either an oval or a square window. It has rounded corners and mirrors the shape of the microwave. The dials are usually round and prominent which goes against the trend today to make appliances sleek.
Vintage Style Toasters
Retro kitchen ideas cannot be complete without toasters. Vintage or retro style toasters are the ultimate accessories for the vintage kitchen. Similar to microwaves. These toasters are available in bright colors and pastel colors.
Depending on personal taste, they can either match the other vintage accessories in the kitchen or contrast them. Like all retro style accessories, they have a rounder and less rigid shape than the toasters of today. And, quite often they have chrome trim which stands out against the base color of the toaster.
Match Or Contrast
Does one purchase accessories for the vintage kitchen that are all matching. Or, does one go for accessories that contrast each other? That choice is entirely up to you as the buyer. It also depends on the type of look that is being created. And, of course, the budget available, as some colours can be more expensive than others. Whether you prefer matching or eclectic, with retro kitchen accessories available in such an enormous range.. You will never be stuck for style or choice.