A wonderful way to decorate a room is to use antique pine furniture. The colour of pine wood has a yellow hue that makes your room bright, and the soft texture of the wood makes it easier to work on. Even though pine is soft, it is long-lasting, making it a fantastic long-term solution.
Pine makes for very high-quality carpentry items such as tables, chairs, wardrobes, and dressers. When looking for an antique pine dresser you will need to check the best deals that present top quality and superb design.
Best Antique Pine Furniture Picks of 2018 – Buying Guide and Advice
Selecting a top quality piece of antique furniture can be a daunting task for new buyers. Getting the best price for the best material is quite a challenge. Here are some types of quality antique pine furniture you may love to purchase.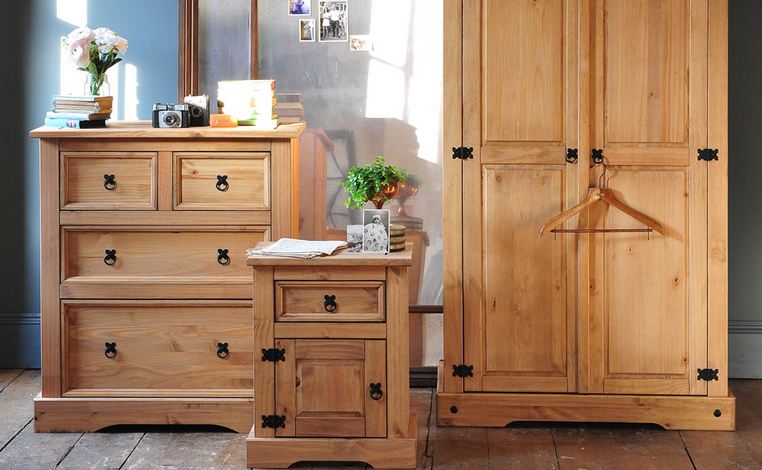 19th Century Antique Pine Furniture
The characteristics of 19th-century antique pine furniture are easy designs, simple sections, and smooth edges. These timeless pieces of pinewood feature a wide array of influences, characters, and graceful designs. but they follow a very specific style that many love.
Here are some links to antique pine pieces of furniture originating from the 19th century. https://www.ebay.co.uk/itm/ANTIQUE-VINTAGE-PINE-CHEST-OF-DRAWERS-C1900/282860855564?hash=item41dbd2210c:g:RscAAOSwa2ZakcUo, https://www.ebay.co.uk/itm/Antique-Arts-Crafts-pitch-pine-writing-DESK-bureau-w-drawers-Mission/291845172593?hash=item43f353ed71:g:GG8AAOSwtDdaUOPm, https://www.ebay.co.uk/itm/French-Faux-Bamboo-Pitch-Pine-Triple-Armoire-HereC1900/232671217346?hash=item362c4906c2:g:TQ8AAOSwDclZyV5h
This antique pine chest of drawers includes four drawers with elegant handles. The piece of furniture originated in the 19th century and is surprisingly affordable. It is in very good condition, and would look lovely in a bedroom or living room.
The French Faux Bamboo Pitch Pine Triple Armoire is a stunning piece of furniture. It was created in a unique style, made to look like it had been made of bamboo. This is a one of a kind item.
Edwardian Antique Pine Furniture
The Edwardian age began with a new style of interior design. The main characteristics of Edwardian antique pine furniture are that it is simple and elegant. The design features include an informal feel with light colours.
Here are some Edwardian style antique pine furniture pieces to die for. https://www.ebay.co.uk/itm/Antique-Vintage-Edwardian-Solid-Pine-Office-School-Writing-Desk-Table/263492521453?_trkparms=aid%3D888007%26algo%3DDISC.MBE%26ao%3D1%26asc%3D43781%26meid%3Dfd6fcc6998d7482c81a3a583b9e36de9%26pid%3D100009%26rk%3D2%26rkt%3D2%26sd%3D291845172593%26itm%3D263492521453&_trksid=p2047675.c100009.m1982, https://www.ebay.co.uk/itm/Train-Tram-Cast-Iron-Pitch-Pine-Edwardian-Garden-Bench-Park-Bench/182598544899?hash=item2a83b8ae03:g:-3kAAOSwXYtY1hNt, https://www.ebay.co.uk/itm/Dining-table-extending-Edwardian-antique-drawer-leaf/122964429578?hash=item1ca1404b0a:g:vo8AAOSwuZlZu6P3 https://www.amazon.co.uk/Core-Products-4-Drawer-Antique-Lacquer/dp/B017EZ41AS
The Edwardian style writing table is a bargain and in excellent condition. The garden bench is beautiful with heavy cast iron legs and an attractive patina look. The dining table is in excellent condition and comes with a cutlery drawer. Use the links to find your own inspiration for genuine pieces, and look on Amazon UK for lower-cost replica furniture.
How to Recognise Antique Pine Furniture
There are many ways to verify if a piece of antique pine furniture is truly timeless or simply a clever replica. Pine wood degrades over time. There will be signs of age like splitting, deformation, and discolouration. Look for notes about these in the seller's description.
Taking care of your newly purchased antique pine furniture is very important. Use a gentle cleaner made for pine and utilize wax to bring back the lustre of your antique piece. Never place a hot or chilled object directly on the surface of your furniture.