Antique chairs can look misplaced in a modern house, but with the right antique desk chair or a combination of antique chairs and a flair for audacious furniture statements, you can create a timeless and elegant look
Vintage bar stools are another great way to add vintage glamour to your home and to amplify the authenticity and boldness of your taste in furniture. You can also use vintage bar stools to add a touch of imperial taste.
Best Antique Chairs – Buying Guide and Advice
Selecting and buying antique chairs does not have to be a time-consuming and painstaking task. Selecting pieces of your furniture, like antique dining chairs, should be an easy but well thought out process. This guide will help you pick your next antique piece of furniture with ease and confidence.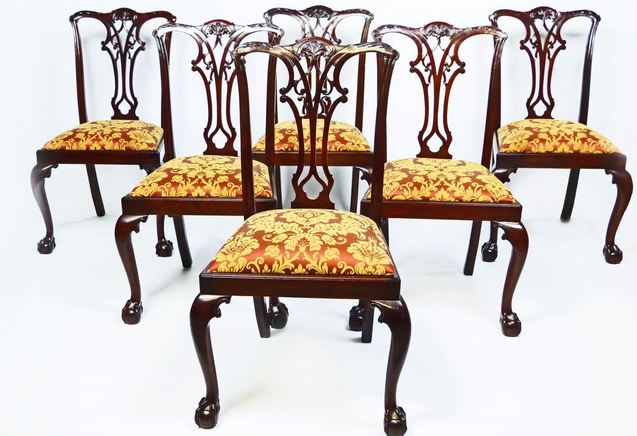 Stunning Oak Antique Chairs
Oak is not only affordable but it's durable as well. This makes it a great buy. Add some vintage spark to your library or desk with a great plush antique chair that will blend very well with any modern furniture in your library. The oak will complement other wooden furniture and it will also go well with any light coloured furniture you may have.
Inspiration from eBay: Search related products for more ideas. https://www.ebay.co.uk/itm/Stunning-antique-oak-captains-desk-chair-library-chair/282818906737?hash=item41d9520a71:g:s2sAAOSwLjxaZhRT https://www.ebay.co.uk/itm/Antique-Oak-Anatomic-Comfort-Chair-by-Milwaukee-Chair-Co/183069969262?hash=item2a9fd20b6e:g:rTkAAOSwyi9Z94K0 https://www.ebay.co.uk/itm/Antique-Edwardian-Oak-Revolving-Swivel-Office-Desk-Arm-Chair-Circa-1900/132480322172?hash=item1ed8714a7c:g:ou8AAOSwMGVaZyF-
These oak office chairs are stylish and will add a beautiful finish to your office setup. Use these pieces of furniture from another era to evoke a sense of grandeur in your office. The captains chair exudes comfort and it will add a dash of colour from the leather.
The Anatomic and Edwardian swivel chairs are class on wheels. The well-polished chairs will complement wooden desks well, and the wheels will make mobility so easy you can be swiveling around your work space in style.
Classic Velvet Antique Chairs For Sale
What better way to exude grandeur other than some stunning, plush velvet chairs. When people think velvet, they usually link it to class and royalty, and with some vintage stools or chairs that have a velvet finish, you are guaranteed magnificence.
Beautiful vintage inspired velvet chairs for living and dining room: https://www.amazon.co.uk/Armchair-Handcrafted-Hardwood-Vintage-Cushion/dp/B0717B477T https://www.amazon.co.uk/Radiance-Velvet-Dining-Chairs-Crushed/dp/B01FWHEJHA
Velvet chairs convey a sense of luxury and add an antique element. The beautiful set of crushed velvet dining chairs have diamante detailing and mix vintage and modern styles, so they will look at home with any style of decor.
The soft touch of velvet gives it an upscale charm as is evident in the French style lounge chair, available in several colours. We particularly like this version in duck egg blue.
Intricate Antique Leather Chairs
Leather is well-known for its durability, so you can have a piece of antique leather furniture that still looks as great today as it did some decades ago. You cannot go wrong with leather.
Real vintage pieces from eBay UK: Search related products for more ideas. https://www.ebay.co.uk/itm/Antique-Georgian-Gainsborough-Style-Mahogany-Green-Leather-Office-Desk-Armchair/132188713662?hash=item1ec70fb2be:g:8O0AAOSw~y9ZFDQk https://www.ebay.co.uk/itm/PAIR-OF-VINTAGE-1960-SCANDINAVIAN-DESIGN-BAMBOO-AND-LEATHER-ARMCHAIRS/222828329821?hash=item33e19a7b5d:g:4c4AAOSw7rdaerAg http://www.ebay.co.uk/itm/VINTAGE-AGED-BROWN-LEATHER-CHESTERFIELD-LIBRARY-READING-ARMCHAIR-FOOTSTOOL/202228437719?hash=item2f15c112d7:g:ZG8AAOSw9V1aaMjT
Leather is linked to top-of-the-line products, and this is evident in these leather chairs. Create a lasting impression of class with these antique leather chairs. Leather on its own is classy, but on an antique item, you have a noteworthy combo.
Antique Chairs, Antique Rocking Chairs and more Antique Chairs
Antique chairs will give your space that sophistication that goes with correctly-selected pieces of furniture from another era. Do not be afraid to throw in one or two antique chairs in your home or workplace. You will be glad you did.
Try different types of chairs to go with the particular space they are in. Great pieces to start with include antique rocking chairs or stools to make a statement in the corner of a room, or you can go for something more obvious and daring like antique dining chairs. Whatever you go for, remember, antique is fabulous.