OK, so a retro alarm clock might not wake you up bright and happy either, but it's a great addition to your bedroom
If you're a lover of anything retro, then you need to replace your phone alarm. Or, your digital alarm clock from your bedside table with a vintage alarm clock to match the rest of your vintage decor.
See more antique and vintage clocks here.
Best 4 Retro Alarm Clock Picks of 2018 – Buying Guide and Advice
Here's a list of our favourite retro alarm clocks that are affordable, stylish, and totally vintage. We especially love the twin-bell style alarm clock for a truly classic feel. And, a persistent tone loud enough to get you up and out of bed!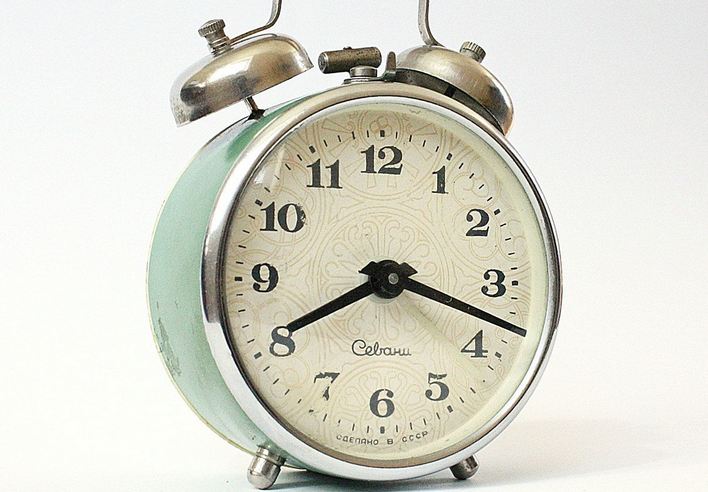 Twin-Bell Retro Alarm Clock and Retro Radio Alarm Clock
Retro double-bell alarm clocks are so pretty and a classic in any bedroom, they're great even just as a decoration. And, they create a rather nostalgic air to the room they are in. Recognisable by the clanging of real bells, this alarm will wake you instantly. Radio alarm clocks are also great because they function as both a radio and an alarm clock. And, sometimes even tell you the temperature.
Check out lovely twin-bell alarm clock and radio alarm clocks here: https://www.ebay.co.uk/itm/Acctim-Saxon-Retro-Double-Bell-Mechanical-Keywound-Alarm-Clock-Various-Colours/330594382907?epid=1812663373&hash=item4cf8f5f43b:m:mCfEnMfhulF8Ic-qsks75ng, https://www.ebay.co.uk/itm/Retro-Double-Bell-Alarm-Clock-Night-Light-Classic-Quartz-Movement-Bedside-Gifts/382253846287?hash=item59001acf0f:m:mZ75l-0c0Vbms9bn0DXsadA, https://www.ebay.co.uk/itm/Atlanta-Radio-Alarm-in-Retro-Design-1881-12/401459487302?epid=815817983&hash=item5d78d9a246:g:YKkAAOSw8UZaMNPm,
The Acctim range of alarm clocks is our personal favourite – they've got a great design with gold trimmings. And, shiny bells that are really reminiscent of the 50s. However, the Atlanta alarm clock with thermometer function is also a really cool. It's a modern version of the retro radio alarm clock with the extra features adding just something a little extra.
If you're not so keen on pretty-looking alarm clocks and are more into 60s or 70s style type of decor, we really love the Atlanta radio alarm with its bright orange colour that has retro written all over it.
Vintage Alarm Clock Radio
A vintage clock radio combines the benefits of technology. Bluetooth function and LCD display with a vintage look. We especially love that they look like little old televisions before flatscreens were invented. They're great for a 60s or 70s look to your bedroom, especially if you're not into florals and cute alarm clocks.
https://www.amazon.co.uk/Sangean-Europe-BV-SNGWR11-WR-11/dp/B001BGGD8A https://www.amazon.co.uk/Goodmans-GSR1889DABBTW-Heritage-Retro-Bluetooth/dp/B00FGOPY4W https://www.amazon.co.uk/Vintage-Style-Quality-Digital-Radio-Duck-Egg-Blue/dp/B01BTZ8JUC
These are a little on the pricier side, but they're amazing quality. They have multiple functions like Bluetooth, LCD display. And, amazing sound, all in one neat-looking box-shaped alarm clock with a minimal design. They're great even in the living room or kitchen but are best used as alarm clocks. And, offer the same snooze and dim functions that your smartphone does.
Art Deco Alarm Clock
Art Deco alarm clocks are in another style completely. They belong in any art lover's house and have a gorgeous steampunk touch to them.
If you're looking for a vintage or retro alarm clock, we suggest that the most important thing is actually style. If you simply need an alarm to wake you up, most alarm clocks can serve for this simple function so go by style and design. If you've got vintage, 50's style home decor. Then, a twin-bell alarm clock is the missing item in your bedroom. If you're more of a minimalist and retro-loving home owner, get yourself a radio alarm clock with bold colours. Or, a neat wooden case and it will fit right in.